In celebration of Community Manager Appreciation Day, I am releasing results of a collaborative project collecting songs about community management. Click the image below for a fun and eccentric Spotify playlist!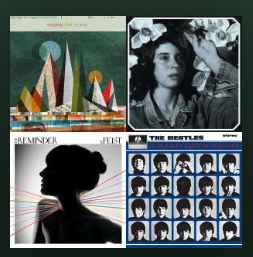 I discovered Jason Miller's Welcome to the Funnel (a play on Guns n' Roses' Welcome to the Jungle, for those of you not in the know) in October and it gave me hope that maybe there was an audience who believed as I did–that music does have utility and relevance for business. All year, I'd held back for a variety of reasons I will explore in a future post.
MANY thanks to the contributors who gave me songs, stories and lots of retweets + the several organizations whose support grew awareness of it far and wide:  the great team at My Community Manager, Cloudpeeps, CMX, and Danielle Siembieda.
An additional giant virtual shout out to Susan Silver who helped normalize the lyrics data from contributors so I could create this word cloud from the songs (ah the dominance of refrains). I've invited Susan to share more about what she did in a future post and if you geek out on data, Susan is launching a new blog here today!
---
About the Songs
Explicit. For those of you AT work- two community managers noted that their songs had explicit lyrics:  Champion by Kanye West from Matt Saunders and Bad Days by Kicking Tuesday from Evan Hamilton (not part of the playlist).
Also not part of the playlist, Taylor Swift pulled her content from Spotify so Tessa Greenleaf's song, Out of the Woods, isn't included. Special mention about Scott Moore who sent me 14 songs–I chose one at random.
Just the Music. Marc Siegel notes that his choice of My Body by Young the Giant is, "simply about the beat and not about lyrics." Also in this category Peter Trapasso chose Freddie Freeloader by Miles Davis and Kay Berkel chose Slow Blues, by Wu-Tang–an instrumental piece. About Slow Blues, Kay writes, " It reminds me of my community work because it is cool, unique, and it's from a CD entitled Think Differently Music. Isn't that we do every day?"
---
Select Stories Behind the Song Choices
Shelley Webb chose Smash Mouth's Walkin' on the Sun because she is both a community manager and a social media marketer. "Sometimes my clients may have unrealistic expectations such as 10,000 organic Twitter followers in 1 month, a video that goes viral overnight, or an immediate 100% increase in revenue. It is at those times I think to myself. You might as well be walkin' on the sun. :)"
Susan Silver quotes the lyrics in Say, by Cat Power because they remind her of the importance of clear communication.

Learn to say the same thing
What defeats people is a double confession
One time they will confess one thing
And the next they will confess something else

Sasha Cagen chose Feist's song I Feel It All, "because it recognizes the sensitive souls, and I am certainly one of those. My sensitivity is what has allowed me to write with precision about the emotional experience of being quirkyalone and that description in my work is what has drawn together a community. In a world where sensitivity can feel like a burden, even something to be ashamed of, this song makes me feel in tune with me."
Sharon Lina Pearce and I both chose Rush's Closer to the Heart but for different reasons. Once I discovered this, I went with Rush's The Trees instead because it tells a story about a community in conflict.
Sharon shared the inspiring image above to go with her song and quotes the lyrics to acknowledge that "Everyone doing their best in their area of expertise. These are the building blocks of a community which can be cemented together with collaboration."
The blacksmith and the artist
Reflect it in their art
They forge their creativity
Closer to the heart
Lindsay Stärke writes, Pretty much the entire Gogol Bordello catalog is about community–immigrant community, punk rock community, local community, international community. But this song is all about making connections with others and finding your tribe:
On intersection of all dimensions
Where I was stoppin' by just for a drink
I meet a brother from tribal connection
And together we began to sing
We gonna turn frustration into inspiration
Whatever demons are there, we gonna set them free
Such is the method of tribal connection
Of our fun loving restless breed
Of her choice of the song Secret Crowds, Julie Hamel writes, "This the perfect representation of how I feel about every community I've had the chance to touch, the customers and teams I've worked with:  passion, love and the desire to create the best possible experience for all, always. It also represents the power of communities, people gathering around common interests to support each other, their ability to make an impact and to create positive change together:
Let me feel you
Carry you higher
Watch our words spread hope like fire
Secret crowds rise up and gather
Hear your voices sing back louder
Of These Are the Days by 10,000 Maniacs, Lynn Abaté-Johnson writes, "These really are the days we as a community will remember because the best of us, the most conscious and conscientious of us, are forging new ground, laying a strong, rock-solid foundation for generations of community builders to come.
I'm on Standby by Grandaddy is Jill Hundley-Keefer's song. If you listen in context of her comment, it is hilarious. She says, "This song always pops in my head when I am doing a community management project launch or platform update."
Of his choice of Sé Lest by Sigur Rós, Ariel Viera writes about the concert film where a marching band is playing this song throughout a little Icelandic neighborhood. "As they play their tune, the community comes out to experience this magically spontaneous performance together." For Ariel, music has always been about the community — about listening to something together with friends and strangers alike and sharing this experience that can't be relived or recreated.
Rich Reader runs a Facebook discussion group called Wine Aficionados, about wine appreciation. Joni Mitchell's A Case of You is, "…about being determined, caring intensely about the feelings that we share, and pouring our energy into each other around the people/matters that we care about."
---
For those of you not using Spotify, you can scan below to learn about all the participants and the songs they shared:
If you liked this project and want to hear more from me, or just follow along with my next content adventures, I invite you to add yourself to my email list.
Thanks for immersing your senses and time! Happy Community Manager Appreciation Day!